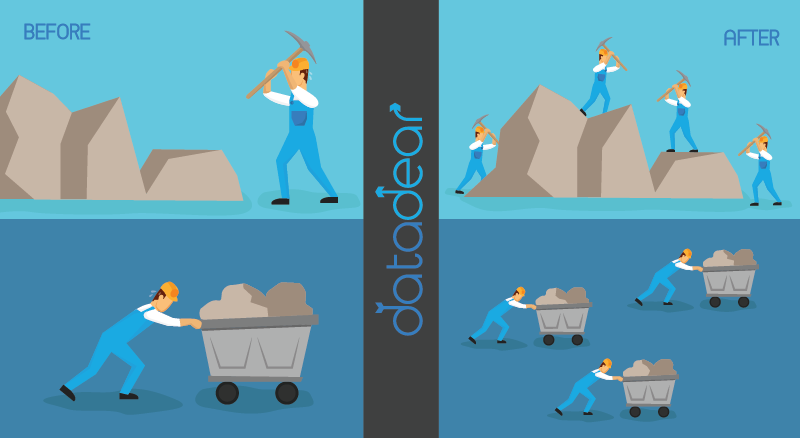 Upping the Game! Moving to Microservices & Azure
2016 was an incredible year for DataDear – September was our second year in operation and December marked the first six months since the product was commercialised.  There was a sudden increase in growth which led us to keep investing in a robust infrastructure to handle the increasing volume and demands.  Late last year, a decision was taken to focus on these key infrastructural tasks:
Microservices
Moving away from the typical flat architecture and embrace modern technologies … allowing DataDear to grow whilst improving performance. DataDear is in the final stages of transitioning to a microservices architecture like some well known web giants – Uber, Netflix, Amazon and ebay. Having several smaller DataDear miners which scale according to demand is more efficient than one big miner who can only process 1 thing at a time.
Moving to Azure
Shifting from Infrastructure as a Service (IaaS) to Platform as a Service (PaaS) so our engineers can focus on the DataDear engine instead of having to allocate time to maintain the up-keep and security of the DataDear servers.
Within a few days, DataDear will be moving to the Microsoft Azure platform.  This will add tremendous value to the product in various areas, namely security, performance, reliability and integrity of the service being provided. Such a move is tricky when you have thousands of live clients across the globe and requires months of preparation.
How does it affect you?
Both these projects will be finalised in Q2 2017 – during which you might notice some frequent releases of DataDear.  Minimal downtime is expected and this will be communicated in advance as per our standard practice. Once these infrastructural changes are ready, we will be able to focus more on the product and we will soon have some exciting announcements.