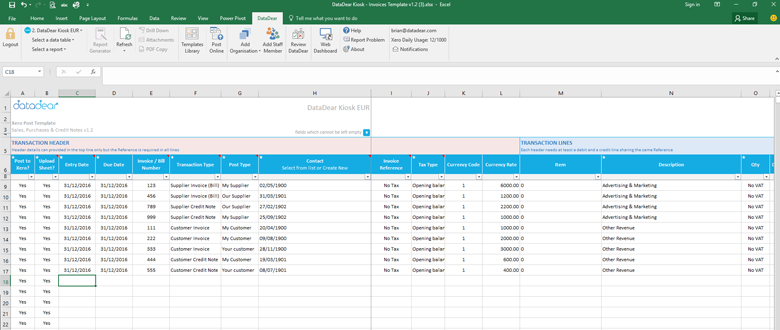 Migrating your existing organisation to Xero
Based in New Zealand, Xero accounting software is used by over a million organisations across 180 countries. Xero is in fact one of the leading cloud-based accounting software solutions on the market. When an accounting firm or an entity decides to start using Xero, there are a few steps steps one must follow to set up the new environment and migrate the opening balances from your existing system – it being paper, Excel or another accounting software.
Importing Opening Balances
One of the most important steps in the migration process involves creating your chart of accounts and entering their respective opening balances. For the Accounts Receivable and the Accounts Payable, balances need to be matched against any outstanding Invoices and Credit Notes for both sales and purchases. Xero offers the option to upload these outstanding Invoices and Credit Notes using csv files however the process of generating the right csvs is rather painful and messy. This is where DataDear can be quite handy as, amongst other features, it can easily POST data from Excel directly into Xero after the DataDear validator ensures the data is correct.
DataDear Bulk Invoices Template
Instead of using the current option of having to create different csv files and uploading them one at a time, DataDear allows you to create an Excel workbook (yes… a .xslx file) which can include your workings … meaning that any formulas / formats saved in the workbook will remain available after reopening the file. The Invoices / CN template is available for download in the DataDear Templates Library. The following transaction types synonymous with conversion balances (including multiple currencies) are supported; Customer Invoice, Customer Credit Note, Supplier Invoice (Bill) and Supplier Credit Note. Multiple lines for each Invoice or Credit Notes are supported and these include drop-down with Xero's details such as the organisation's chart of accounts, tax rates and customers – new customers can also be created on the fly directly from the sheet.
Why use DataDear?
One of the biggest pros of this approach is to have all outstanding details in one sheet rather than having multiple csv files. Another strong feature is the ability to choose what data rows to POST to Xero with a simple yes or no in every row. This will mean that the same sheet can be published to Xero without having to delete any data that cannot be published – this is particularly handy to upload only part of the sheet. Another amazing feature is when the user is filling the lines and needs to enter specific details such as the customer or the account code. Only real customers and real account codes that have been created in Xero for that organisation can be chosen from the drop-down .. hence entering the account code is much easier and cleaner than having to type these in a csv. This will reduce errors and effectively making the process more efficient which results in time savings. One can also copy and paste the values from other lines or directly from another system if the data is formatted correctly.
The traditional Xero csv templates create the lines as draft Invoices / CNs when imported so they can be double-checked and approved within Xero. Using DataDear, one can post the data in either "Draft", "Submit for Approval" or "Approved" giving you a better workflow and more control on what, when and where to post…. plus you can check the data before a final POST.
At this stage, transactional data cannot be posted via this method. We are exploring ways on how DataDear can also be used for this purpose.
Convinced? Give it a try and let us know your feedback in the comments below.
The Future
We are currently working with Xero to provide another template designed for mass loading of organisations. Designed for the larger firms, this tool will allow a firm to easily move a number of organisations to Xero in a few minutes…. saving several hours of work per organisation. Initially, this tool will be exclusively launched in the UK market and soon it will be extended globally to the other countries. More on this migration tool will be communicated in the coming months.