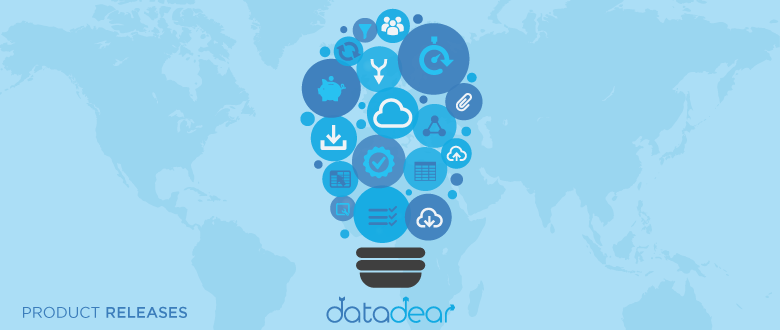 Product releases: May 2017
We are currently working on a number of improvements and new features to enhance the DataDear offering.  This enhancement pack will be launched later this month … let's have a quick look at what you can expect to receive in the next update:
Multi-Currency Group Consolidations – 2 new reports will be launched soon. The Profit and Loss – Multiple Period and the Balance Sheet – Multiple Period reports are currently not available for multi-currency group of companies. Similar the the Trial Balance – Multiple Period premium report, the values will be automatically converted (via a live feed) to the group default currency.
Group Consolidations – report Profit and Loss and Balance Sheet against specific tracking categories for a group. A long requested report which will add significant value to those who need to use tracking category filtering in their consolidations and group reporting.
Cleaner POST templates – All POST templates will be relaunched with a new cleaner look. Your existing POST templates will still work after this upgrade so there no need to move to the new templates.
Bank Transactions & Invoice POST templates – The logic through which these transactions are grouped together when posting has been improved.  Transaction lines will be matched if the reference number, date, contact, transaction type and bank account are the same.  We are aware this might have caused some incorrect grouping in the past so this change should solve this problem.
POST template – We are also working on another POST template designed for accountants who need to carry out bulk changes to their chart of accounts.  More information about this feature will be communicated in the June product release.
This functionality is currently in the final stages of the development cycle … we are will need the green light from the QA team before launching later in June. Some functionality might not make it in time for the release so please watch out for the next product update to confirm what has actually made it to the final list.
Planned Releases for 2017
A small peak at the major product releases planned in the coming months – some are more complex than others and will take longer to be released.
A massive task of moving DataDear to a better architecture using micro-services on the Azure platform. Read the blog for more info.  This is planned to be fully deployed by June and will considerably improve the architecture.
DataDear is currently working with Intuit to have Quickbooks online integrated with Excel via DataDear – this is planned to be launched in September 2017.  More integrations with cloud-based accounting software will be targeted – let us know in the comments below if you have any preference on what we connect next.
The migration tool which is currently under a pilot study by a few partners will be launched … starting with the UK market and eventually extended worldwide.  This will drastically improve how large accounting firms migrate their clients to Xero.
The Report Builder will allow users to build reports across a number of data tables on the fly and refresh data when required.