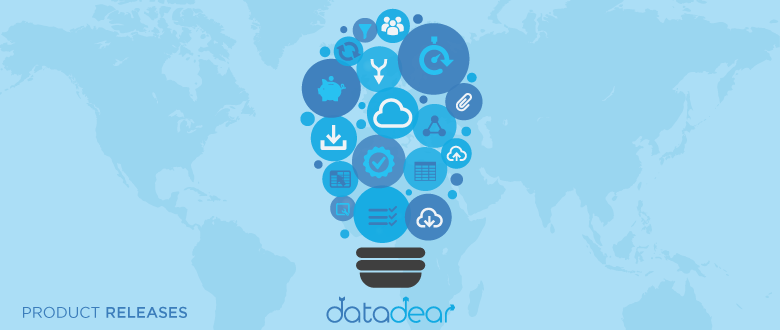 Product releases: June 2017
Let's have a look at the main functionality released during June 2017:
Group consolidations in Xero
We all agree that Xero is beautiful accounting software, until you need to prepare a set of consolidated reports for a group of companies.  Using Xero for consolidations is a rather complex task as Xero does not provide an out-of-the box solution. Accountants love (NOT!!) playing with csvs downloaded from Xero and then importing everything into Excel to create a meaningful reporting pack for their clients or directors …only to discover at times that they are missing a few accounting entries and have to repeat this painful process every time !! It's painful, messy and takes too long – a superhuman effort!
Group consolidations using DataDear
A few months back, DataDear bridged this gap by introducing the ability to group organisations and generate consolidated reports for the group across multiple periods. The DataDear option allows the accountant to virtually build any reporting pack, loading data from the feed which DataDear creates between Excel and Xero. No need to employ a superman – at least not to feed and refresh your data into Excel!
Once the report is built, refreshing the data for a different group or in the next reporting period can be done directly in Excel with a single click – hence transforming the whole group consolidation experience into a much simpler, robust and reusable process. Yet this was still somehow limited and in a recent DataDear update, a number of new features and improvements have been introduced to cater for more flexibility and to make consolidations an even simpler process.  An area highly requested by users was the ability to filter the Profit and Loss and Balance Sheet reports for a group using up to two tracking categories which are common across the group…. yes …. filter per tracking category within the group – a unique feature on the marketplace!!  Moreover, all multi period reports have been extended for multi-currency groups with a live forex feed converting values on the fly to the default group currency – lovely isn't it?
Edit Chart of Accounts
Another super feature accountants will love involves the maintenance of the chart of accounts – another first for the Xero marketplace.  Checking and updating your chart of account codes and descriptions is a painful exercise especially when several organisations need to be updated … so DataDear introduced a simple method to carry out this task.
Open the Chart of Accounts DataDear template, click refresh to download the accounts on the sheet, change the codes, account names or descriptions and click POST to update in Xero directly from Excel! And yes, you can also create new accounts or archive any old ones. Maintenance of your COA has never been easier!
Need to update another organisation… no problem … change organisation and redo the whole process within minutes without the need to login to Xero – easy peasy, reliable and amazingly fast!  This cool feature can come in quite handy as part of routine COA maintenance, during migration processes, but also during preparatory work required to establish meaningful reporting packs.
Planned Releases for 2017
A small peak at the major product releases planned in the coming months – some are more complex than others and will take longer to be released.
A massive task of moving DataDear to a better architecture using micro-services on the Azure platform. Read the blog for more info.  This is planned to be fully deployed by July and will considerably improve the architecture.
DataDear is currently working with Intuit to have Quickbooks online integrated with Excel via DataDear – this is planned to be launched in September 2017.  More integrations with cloud-based accounting software will be targeted – let us know in the comments below if you have any preference on what we connect next.
The migration tool which is currently under a pilot study by a few partners will be launched … starting with the UK market and eventually extended worldwide.  This will drastically improve how large accounting firms migrate their clients to Xero.
The Report Builder will allow users to build reports across a number of data tables on the fly and refresh data when required.