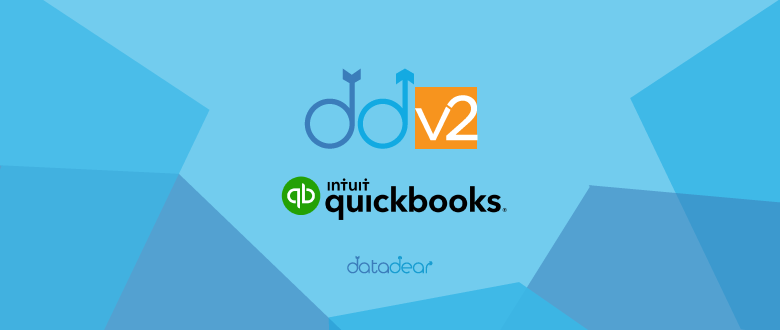 DDv2 – Launching Intuit Quickbooks
Introduction to DDv2
DataDear started off as an app exclusively built on top of the Xero API hence allowing accountants to connect their spreadsheet to their Xero organisations/companies. During the last few years, the product was enhanced with new functionality and improvements to fully exploit the Xero API. This is an ongoing exercise which also depends on how and when the Xero API develops. Moreover, the team is continually looking at other areas in the Xero API which can add value to the thousands of accountants using DataDear, such as the various country-specific payroll, practice manager or Xero HQ integrations. If you have any specific requirements in these areas, we would love to see if we can help, so feel free to drop us a note.
In the meantime, earlier this year, the team started preparing the necessary foundations to allow DataDear to on-board further integrations with other accounting software. This was no easy task and took over a year to plan and execute the new DataDear – DDv2. Extending the infrastructure is in fact only part of the novel and smart features which will be launched later this month. More info on the new version will be communicated on the 22nd of November (22/11) …with some teasers along the way obviously!
QuickBooks online
Now that DataDear is ready to onboard new accounting software integrations, it was time to listen to our community who had long been asking for having DataDear connected to Intuit's cloud service, QuickBooks Online (QBO). With a subscription base of over 2.5 million users worldwide, QBO is the most popular accounting software for small and medium-sized businesses and accountants. Their API is quite advanced hence it requires more complex development to connect to DataDear. This hard work will translate into the ability to provide smart and meaningful functionality to the QBO users who wish to connect their Excel spreadsheet. Initially, the focus will be on the GET functionality (where users can download data tables and reports) which will be launched in a private beta phase this November. The full list of data tables and reports together with the related filters will become available over the next few weeks.
If you're interested in being part of this elite QBO group, please contact us on support@datadear.com indicating the number of organisations and users you wish to connect. During this phase, you will be able to explore the full functionality and provide feedback that can shape the product according to your needs. Naturally, we will provide the tool for free during this phase.
In the meantime, the team will continue aligning the existing functionality around the Xero integration to work with QBO companies – such as taking backups, multiple period reports and consolidation of a group of companies.
What's Next…
Don't worry – POST is coming soon after! Once the data tables and reports have been finalised, the focus will shift to the other core area of DataDear – posting. The development of this module will allow users to POST data and transactions in bulk.
We are aware this area will add tremendous value to the QBO offering especially due to the lack of csv import directly from the tool. In addition, we are planning to take this process to the next level by allowing users to not only post transactions in bulk (as per Xero integration) but to allow the user to first download a list of transactions, edit them and push the changes back to QBO. This new approach is currently being piloted internally and details will be published in due course but we know it will be a loved feature! And if you are a Xero user, there is no need to be jealous, eventually this functionality will be extended to the Xero integration as well.