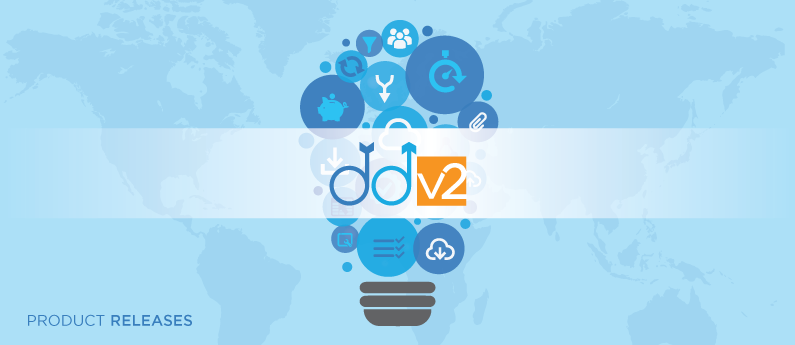 Product releases: November 2017 – DDv2
Let's have a look at the main functionality released during November 2017's major upgrade referred to as DDvs: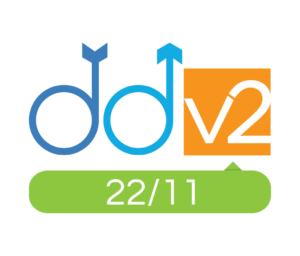 What to expect from this release?
DDv2 is not a simple facelift exercise to increase the version number – in fact the Excel toolbar did not change much (well…the Audit Trail is a nice addition). Instead, the team focused on upgrading the existing functionality and improving areas causing major frustration – such as moving between sheets. We strongly believe the app is now smarter and faster, in turn offering more to our users.
This release is predominantly made up of the following:
Same app … with a new engine – You can expect to see several improvements when working with the DataDear toolbar in Excel. For example, there will be no need to 'logout' from DataDear when working in Excel – the switching between sheets and workbooks no longer has a negative effect on the way you work. Retrieving data will also be noticeably faster with less OLE warnings coming up.
DataDear is moving to Microsoft Azure – a step which clearly indicates the maturity of the product. Azure is used by about 80 percent of Fortune 500 companies including 3M and Boeing. We love it and are confident you will love it too! Eventually we see this move facilitating integrations such as Office 365 and Power BI.
New look – post templates – We have published new improved templates for all post templates – they are now easier to use and contain a Notes and Controls sheet to help you get things right before posting. Templates have been cleaned from any unnecessary information and the focus has shifted to providing a simple layout for bulk data entry. You can keep using the existing versions but it's worth giving the new ones a shot!  Visit the Templates Library from the Excel or directly from the Dashboard to download the latest templates – feedback on the new sheets is very welcome.
Excel add-in – The major change to the toolbar is the way it works – example an organisation is not selected by default when moving between sheets. Hence non-DataDear sheets will no longer respond slowly to DataDear. This whole engine is smarter and should address complaints in this area.  Another change is the removing of the report generator (more info will be communicated on this in the future) and the addition of an Audit Trail button for those using the POST functionality. You will love this feature!

There are also several minor improvements and bug fixes to various reports and data tables…. such as:
– you may now filter journals with payment only
– when no data is found for your query, an empty table is created (instead of keeping the data of the previous query)
– 'Get additional details' for credit notes has been added
– Xero daily limit was increased to 5,000 so limit was removed from Excel and moved to the Web Dashboard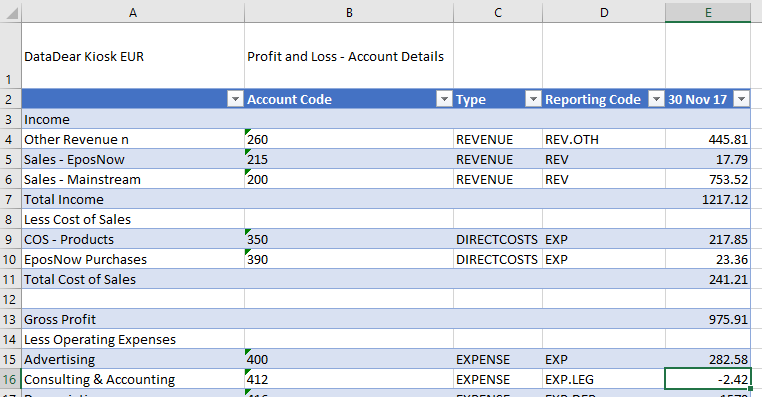 New Reports – We launched 2 new reports – 'Trial Balance' and 'Balance Sheet' with improved reporting details.
These reports are frequently requested by accountants who need to map the account codes with the TB and BS figures – using Excel vlookups will now be so much easier and in some situations not required at all!  These reports contain these additional columns – Account Code, Type and Reporting Code.
Web Dashboard – A new improved look for the web dashboard… and a new URL – https://apps.datadear.com. Besides having a cleaner interface, it is now easier to find what you need. An improved Audit Trail page allows you to search for previous transactions posted from DataDear and to use the direct link to visit the transaction that was posted in Xero.  We have also launched the option of applying promo-codes to a newly added organisation. You will be able to redeem promo-codes for newly added organisations / companies – more on this will be communicated later on, depending on your country and industry.
Tip: 'Staff Members' has not been renamed to 'Users' as you can invite staff and clients. Now it is no longer possible to simultaneously use the same login details in Excel so each user needs to have his own credentials.
QuickBooks Online – DataDear has extended it's reach from Xero to also connect to QuickBooks Online. So if you are using QBO companies and wish to try out DataDear, let us know as initially this will only be available to a selected pilot user group. Read more on the DataDear-QuickBooks integration in this article. This release is a very early / alpha release.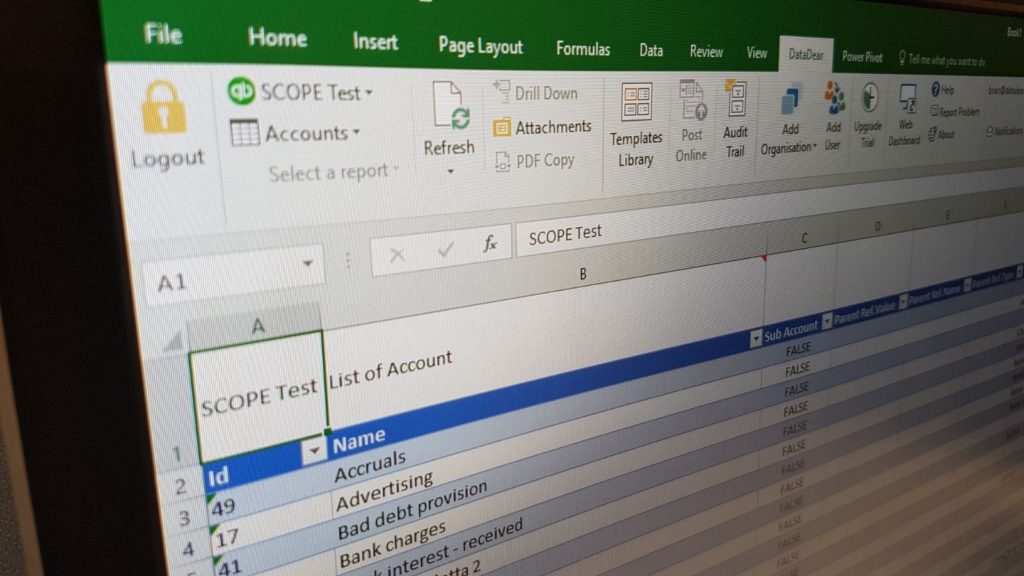 DataDear API – Techies will love this feature! It will now be possible to connect to and exploit the DataDear's engine directly via our API. The API will give you access to all Xero and QuickBooks data tables / reports including reports developed by DataDear such as the Trial Balance – Multiple Period report. If you wish to make use of this functionality, contact us for more information on how it works.
Planned Releases for the next 90 days
A small peak at the major product releases planned in the coming months – some are more complex than others and will take longer to be released.
We would like to introduce more delegation tasks on what the account owner can assign to Users – such as allowing users to add organisations or to create other users.
DataDear is currently working with Intuit to have Quickbooks online (GET) finalised later this year.  The ability to post will be introduced once the GET is ready – we would like to introduce a new concept of download transactions in Excel, edit and post back to QBO.  Xero will also be improved in this area.
More integrations with cloud-based accounting software will be targeted – let us know in the comments below if you have any preference on what we connect next.
The migration tool which is currently under a pilot study by a few partners will be launched … starting with the UK market and eventually extended worldwide.  This will drastically improve how large accounting firms migrate their clients to Xero.