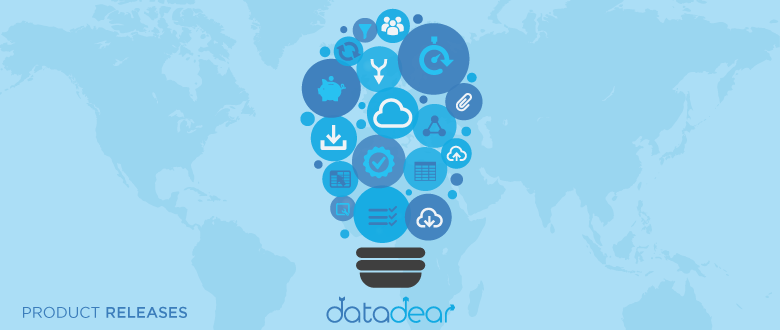 Product releases: February 2018
Let's have a look at some of the most important changes carried out this month and a sneak peek of what's in plan for the future.
February 2018 Product Releases
Parameters Window
The parameters window for both data tables and reports was cleaned with some reorganisation of functionality plus some new cool features which have long been requested by the community
Ability to only show unique records – very useful in some cases where has record has multiple lines – example when an Invoice has multiple payments but you only need to view the list of Invoices.
Remove empty columns – when ticked, DataDear will only download the columns which have a value instead of downloading all the columns.
A help button which provides contextual help.
Xero Journals Data Table
The journals data table functionality was improved to allow easier access to downloading journals and using the filters.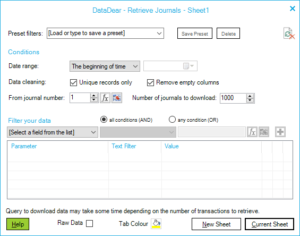 For more information on how to use the Xero journals data table, a knowledgeable article has been published.
DataDear API
The DataDear API, is gaining some interesting momentum – a new web page for developers has been published to showcase the advantages of using this api.
Bugs and Performance Updates
A number of bugs and performance updates have also been fixed and released including:
reconnecting an organisation with Xero will be less frequent and there will be no need to delete the organisation
some multiple period reports behaved abnormally on the last and first day of the month.
the last row of a downloaded data table was not always included in the generated table.
bank transactions tracking options were not visible
Intuit Quickbooks Online
The integration to QuickBooks Online has been upgraded to beta – several functionality has been included:
33 data tables
23 reports including the General Ledger
data tables & reports have been finalised with full functionality and filters
ability to remove empty columns
ability to add a QBO organisation from the Excel add-in
Planned Releases for the next 90 days
A small peak at some of the product releases planned in the coming months – some are more complex than others and require a longer development cycle.
The integration with QuickBooks will be completed with the ability to POST in bulk – the first release will have the option to post journals and eventually there will be the edit functionality.  Other templates will follow.
A new report will be developed to facilitate the generation of batch bills for payments to be imported into your banking application.
A DataDear API pack will be compiled to assist developers who wish to make use of the DataDear engine.
That's it for this month – let us know what you think!