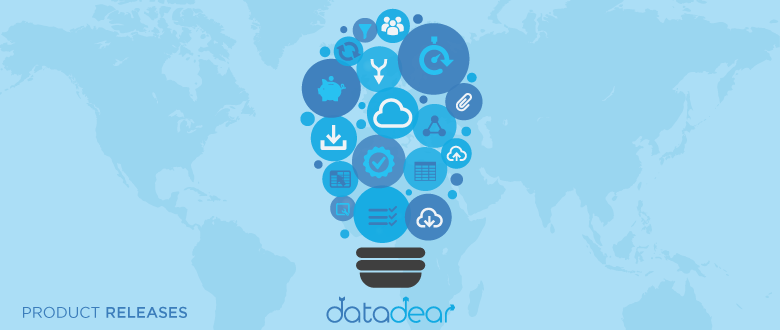 Product releases: April 2018
Let's have a look at some of the most important changes carried out this month and a sneak peek of what's in plan for the future.
April 2018 Product Releases
New icons – new functionality
Post Online icon has changed but still does what it says on the tin – posts data to Xero. To the right, the new icon Clear Sheet is useful to clean the sheet and start fresh and this will be particularly useful when the third icon – Get Data to Edit will be used. This last icon is currently only available on a few POST templates until the early testing phase is completed.  The first template which will feature this functionality will be the QBO Journal Entry – ETA May 2018.
Unique Headers & Remove empty columns
For all data tables, a new functionality has been included to remove any unwanted empty columns and to only retrieve unique columns.  These toggles can be enabled or disabled from the parameters window.
DataDear API
The DataDear API, is gaining some interesting momentum – last month a new web page for developers has been published to showcase the advantages of using this api.  This month, the team has been working on a github page and a postman package with contains a sample .NET application and some examples. The github page is expected to be published shortly.  Anyone interested can request a copy of the postman package via the API page.
Intuit Quickbooks Online
The integration to QuickBooks Online has been improved:
posting and editing of journal entries is currently being tested with some selected users – if you are interested to be part of the next phase let us know.
remember that QBO is still free of charge
Bugs and Performance Updates
A number of bugs and performance updates have also been fixed and released including:
SEPA/BACS payment report was improved
COA template – user is informed before refresh to avoid loosing data
download pdfs in Invoices table was not working
login process has been improved and is now much faster
Planned Releases for the next 90 days
A small peak at some of the product releases planned in the coming months – some are more complex than others and require a longer development cycle.
May 2018 – The integration with QuickBooks will be completed with the ability to POST and EDIT in bulk – the first release will have the option to post and edit journal entries.  Other templates will follow.
May 2018 – A flat layout for the Profit and Loss Multiple Period report – for single and group of companies. Will allow reporting based on a number of criteria including tracking categories.
A DataDear API pack will be compiled to assist developers who wish to make use of the DataDear engine.
Performance improvements – as DataDear grows bigger, regular optimisations are required to ensure data keeps arriving as fast as possible – a research exercise with a local University has started to look at ways in which performance can be improved.
That's it for this month – let us know what you think!