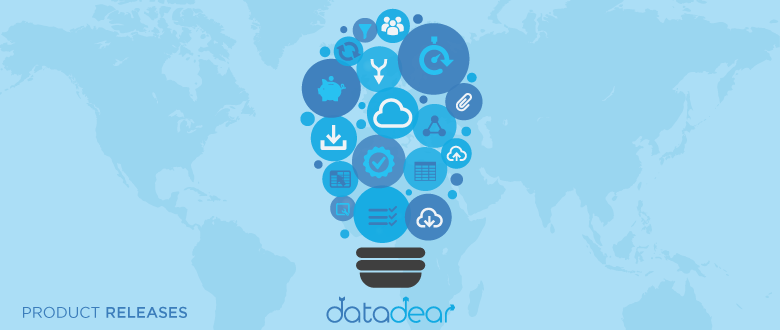 Product releases: June 2018
Another release packed with new functionality, improvements and resolved issues. Let's have a look at some of the most important changes and a sneak peek of what's in plan for the future.
New DataDear Reports
A series of new functional for Xero and QuickBooks reports have been released in BETA. These include:

Trial Balance – Multiple Period report for QuickBooks
Profit and Loss – Multiple Period report for QuickBooks
Profit and Loss – Account Details report for QuickBooks
Balance Sheet – Account Details report for QuickBooks
Outstanding Receivable Report for Xero
Outstanding Payable Report for Xero
All of these reports are immediately available in BETA to all DataDear users.  In addition, the Xero reports will be shortly complemented by a smart Excel workbook (which will be available in the Templates library) which will group data by date and contact hence creating the Aged payables and Aged receivables reports.  A pivot table and slicers will allow you to customise these to your needs.  These sheets will be published within a few days.
QBO – Create & edit journal entries
The first POST template for QuickBooks Online has been launched in May during the Accountex, London.  This template was demoed on the DataDear stand and initially distributed to a few users for their initial feedback.  This template has now been published in the Templates Library and anyone can benefit from the uploading of new journals plus editing existing ones in QBO.
This DataDear POST template has been re-invented – not only allows you to create journal entries in bulk, but can also be used to GET journal entries from QBO, edit these and update directly in QBO.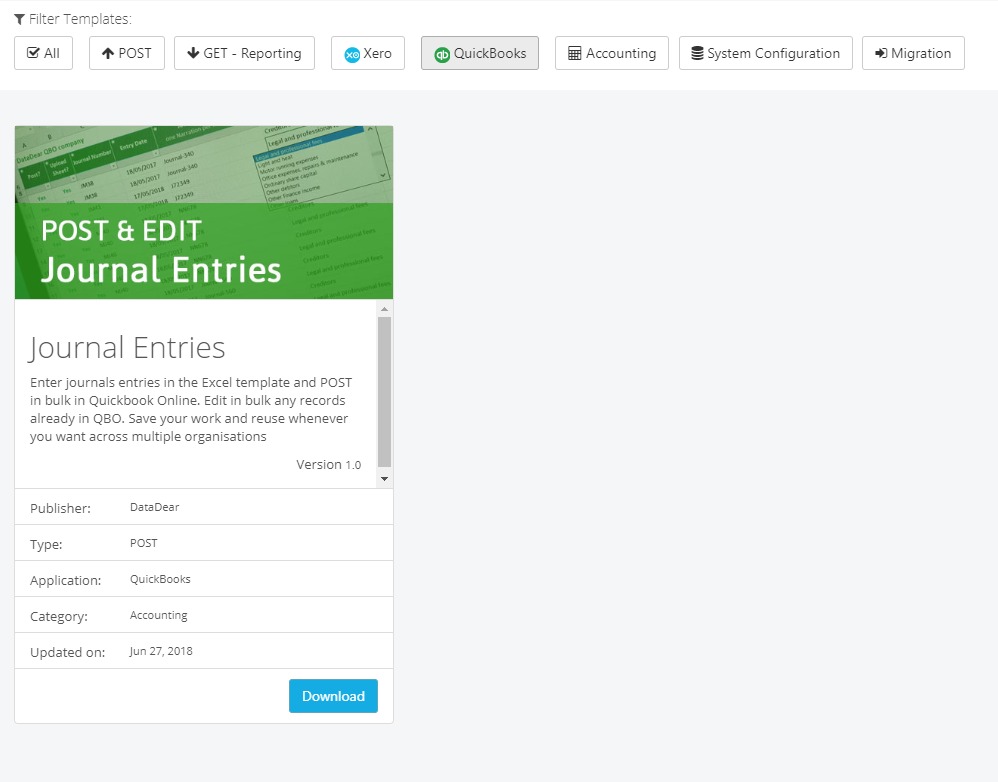 This is a new concept which will eventually be adopted to all other templates including the Xero POST templates.
Xero – CIS Details
Xero recently introduced changes to address the Construction Industry Scheme (CIS) obligations within Xero UK.  Some Xero data tables in DataDear have been changed to include these CIS details – the new columns will only be visible when CIS data is available.
Read more about the Construction Industry Scheme on Xero's website.
Dashboard
New filters have been included in the templates library to easily distinguish between Xero and QuickBooks templates.  Also some new reports which will be launched shortly have been added to the library:
DataDear API
The DataDear API, is gaining some further interest within the developer community. It is our intention to keep evolving and improving this area. New reports are being generated to ensure consistency between the Xero and QBO offering.
As promised in the previous months, the postman page explaining how to use the DataDear API has been published and can by accessed by following this link – DataDear Postman page.
Bugs and Performance Updates
A number of bugs and performance updates have also been fixed and released including:
Improvements in the loading of data within the POST templates.  All data is retrieved simultaneously hence time to retrieve the data has improved – for some templates this process is quite faster.
Minor issues with the Xero journals data table including the Modified Since option.
Xero Bank Transactions data table includes an extra column – Has attachments
Planned Releases for the next 90 days
A small peak at some of the product releases planned in the coming months – some are more complex than others and require a longer development cycle.
QBO – New reports – more DataDear reports will be developed in July so QBO you will enjoy the benefits of the multiple period reports which are currently only available for Xero.
Making tax digital – As a bridging software, DataDear will be fine-tuning it's offering for the MTD with the aim of allowing the Excel spreadsheet and the cloud accounting software to work in tandem. Once a basic ledger has been created for the organisation, it will be able to push data from DataDear's validated spreadsheets to Xero or QuickBooks Online and filed with HMRC from there (the validated sheets will be filled in by the business user/accountant).  A new template is being developed in collaboration with some accounting partners in the UK. If you wish to be involved in this cycle, please contact the support team.
Performance improvements – as DataDear grows bigger, regular optimisations are required to ensure data keeps arriving as fast as possible – a research exercise with a local University has started to look at ways in which performance can be improved. An area which is being explored is how to improve the retrieval process of the data loading in templates.
That's it for this month – let us know any feedback on this or future releases!