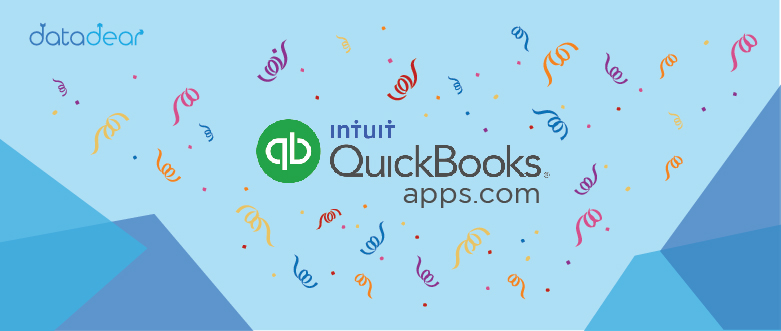 DataDear gets listed on the QuickBooks apps.com store
The Intuit apps.com Store
We are excited to announce that DataDear is now listed on Intuits app store apps.com for the various regions including United Kingdom, Australia, America and India. QuickBooks' message on the apps.com site to "eliminate data entry and save time by connecting with apps" is music to our ears as it's completely aligned with DataDear's message!  
We are providing a platform to allow business owners and their accountants / advisors to help them efficiently carry out repetitive tasks with a 2-way integration with Microsoft Excel. This is done by extending the QuickBooks data into Excel seamlessly, and post data to QuickBooks directly from Excel.
Introducing DataDear with QuickBooks
DataDear, a practice tool assisting with the 2 way integration between cloud financial management software and Microsoft Excel was launched back in 2014 and until recently has been exclusively available on the Xero marketplace.  On this platform, DataDear gained a 5 star rating plus a reputation for helping accountants maximise the benefits of going digital, whilst streamlining the work they do and providing alternative solutions for clients to continue working on Excel (or legacy systems where integrations do not exist). After having tested the QuickBooks integration with a few partners for the last 8 months, it's finally time to extend these benefits to the QuickBooks community.
As UK Partner Manager and ex Intuit employee I strongly believe that QuickBooks is the leading cloud accounting package worldwide and serves over 3 million businesses on their platform, it is critical to our strategy to help accountancy firms and professionals efficiently manage their adoption of digital accounting solutions and supporting the QuickBooks community was something we could never ignore.
Our main focus when building DataDear was to provide finance professionals an efficient, structured way to complete any tasks that happen between the bookkeeping packages and Excel.  This applies to various used cases such as to grab the data required for complex reporting, automating management report packs or feeding business models, to automating entries such as journals (accruals, pre payments, payroll data) and even providing the mandated digital link between spreadsheet data and software allowing full transactional information to flow seamlessly.
DataDear can save teams over 90% of their time on reporting, even more so when working with a group of companies and group consolidations, and provides a seamless 1 click smart upload of data such as Journal Entries, Invoices and Bills (coming soon) between Excel and QuickBooks, providing an alternative way to continue to work with data within Excel whilst maximising the other benefits QuickBooks can offer.
Helping you and your clients
DataDear has many useful features that position it as an essential tool to anyone in practice, who currently works with clients on QuickBooks Online, and still uses Microsoft Excel for some routine tasks.
DataDear can refresh all your live data directly to Excel, from Excel, no need to log in to your accounting package and hit download, it's there where you want it! Want to produce the same report/data for another client? Simply change your client still in Excel and refresh the data. Think of the time you could save instead of completing these tasks each period, build it once and simply refresh when you need!
If you are in need of an efficient way of automating your data that isn't captured or can't be integrated directly to QuickBooks, than DataDear can address these needs. Create a smart workbook allowing for 1 click posting of transactional information directly in, you can even attach the supporting document and your workings too! No more time locating files, mapping headings, or worse rekeying from scratch!

For more information on how DataDear can help your practice, please visit our website at www.datadear.com or book a time with our team on https://www.datadear.com/datadear-event-book-a-slot/
Have any questions? Visit the DataDear Community Forums to learn more about QuickBooks and to ask any questions.